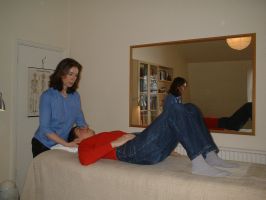 How is it taught?
You learn the technique through a series of 45 minute private 'lessons'. The number of sessions you have and their frequency is individually tailored to your needs.

What Happens in the Lesson?
The Alexander Technique is always taught one to one (introductory groups excepted). Comfortable, non restrictive clothing is best - only shoes are removed.

Through verbal instruction and gentle manual guidance we guide you through simple movements and help you to discover a lighter and less effortful way of doing things, while teaching you how to apply the principles of the technique for yourself in your daily life.

Learning the Alexander Technique is enjoyable and students leave feeling much better. Lessons involve active learning, but are also very relaxing and energizing.


What is the structure of the course?
Harvy recommends that you arrange a first appointment so that we can discuss your needs fully and you can find out what is involved - the first appointment is one hour. After that, if the AT seems appropriate for your needs, I usually suggest six lessons as close together as possible. It is important that lessons are close together - one or two per week - as the AT is about changing habits and too big a gap between appointments can mean the benefit is reduced.

After six lessons we usually review progress; at this stage the student has a sense of what is involved and is feeling the benefits; then students may continue on 1 or 2 per week depending on needs and circumstances.

Learning the AT is like learning another language - very basic skills can be acquired in a few sessions but clearly the more time you give it the more you progress.

Confidentiality is always respected.

Testimonials
"I find the Alexander Technique really effective for my backache. The pain cleared up and I realised that I'd been causing it myself through bad sitting habits and poor posture. Through the Alexander Technique I've found a way to manage my back myself and no longer have to visit the osteopath". A.A.

"I started the Alexander because I've always had very poor posture - it has helped very much and my posture is much better, but the thing that surprised me was how much it helped in other ways. I learnt that my poor posture was an expression of my general state, which at the time of coming for lessons was very tense and stressed. Learning the AT taught me to manage my stress and tension better". J.P.